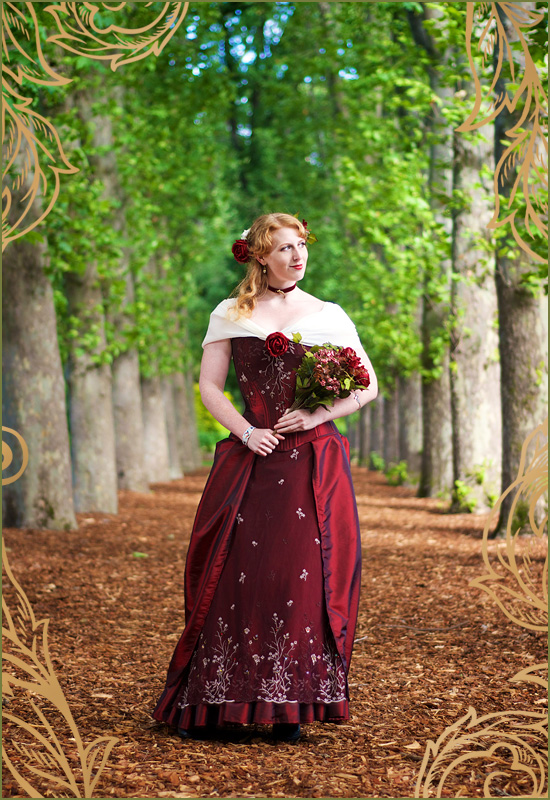 Lyris Design is a Melbourne based fashion label specialising in custom made clothing and corsetry. With inspiration drawn from fantasy, myths and all realms of the imagination, Lyris Design brings to life your deepest dreams and desires. The show-stopping creations of Lyris Design are internationally acclaimed, and have featured in numerous catwalk shows such as the M.A.D. Fashion Showcase, Fiend Fest, Raw: Awakening, Live 08 and Circa Nocturna.
Lyris Design will personally design and tailor each garment to your individual requirements and style, guiding you on a journey of creation to make your perfect outfit. Lyris is well known for its extravagant evening wear and ball gowns, sumptuous coats and cloaks, decadent couture corsetry, gothic, steampunk and fantasy fashion made for both ladies and gentleman.
Lyris lead designer Carly Van Groeningen has been creating bespoke garments for fourteen years. She has an extensive background in couture and bridal wear, as well as having worked in Japan for two years where she was costume designer for several theatrical companies. Carly previously spent three years in private tutelage studying pattern drafting and professional tailoring techniques, along with couture embellishment techniques such as lace applique, embroidery and beading.
Perfect fit, quality fabrics and exquisite workmanship meet sensual classiness, aesthetic extravagance and timeless silhouettes. Whether you are looking for a beautiful corset, stylish gentleman's attire or a gorgeous ensemble outfit, Lyris Design breathes life into your very own fashion dreams!