September 21, 2009 – Lyris Design is proud to be dressing the deliciously beautiful burlesque dancers from Bottoms Up Burlesque in their upcoming performace at the V'n'V Boudoir as part of the Melbourne Fringe Festival. The show promises to be a night of dazzling entertainment and alternative fashion, so get your tickets quickly as this is one night you do not want to miss out on!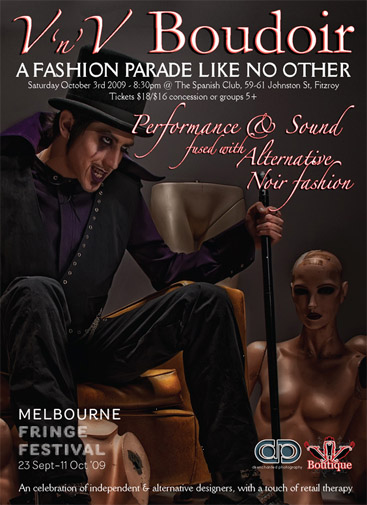 VENUE: Spanish Club – 59-61 Johnston St Fitzroy, Vic
DATE: 3 October 2009 One night only!
TIME: Doors open 8:00pm. Showtime 8:30pm – 12 midnight – the bewitching hour.
COST: Full $18.00/ Concession or Group of 5+ $16.00
Tickets Available from: MelbourneFringe.com.au, phone 03 9660 966
A Fusion of local Fashion, Performance & Sound. With drag, burlesque, contemporary dance, ballet, tribal bellydance, grinder, contortion, internationally acclaimed jazz tap artists, and live music by Melbourne's own Voltera, the VnV Boudoir is a night of alternative dark noir, delicious eye candy & cultural arts.
So come and enjoy a night of devilish pursuits and Visual Pleasures. This dark and dynamic cabaret presented by Visage 'n' Vice is a tantalizing array of artistic performers. An exploration from the dark and haunting gothic street and club styling alternative culture, to the carnival and faery realms. The VnV Boudoir brings to you an array of performance art adorned in designer creations.
Local Performers Dressed by Australian Alternative Designers & Creators
WARNING: This is an over 18's event containing Nudity, Sexual References, Comedy & Blue Steel.
Performers include:
Decibelle Chaos (Contemporary/Ballet Dance), Kelly from Vitae Clothing – SA (Contemporary Dance), Ma'isah Raqus Gothic (Tribal Belly Dance), Machine Gun Thomas & Slow Poison Winston (American Jazz Tap), Mechante Chatte (Bottoms Up Burlesque Beauty), Nada Cat ( Contortionist), and Vyvyan (Angle Grinding & Pyro).
Live Music Performance by: Voltera (Melbourne Based Band)
Hostesses:
Jaz, Nickki & Teagan.
Designers & Creators of The Visage n Vice Boutique include:
GeoMythik, Feral Fraggles, Hexotica, LeLash, Lyris, Mizzerie Debauch, Pangaia, Scarlet Zaphara, Vitae, XSIV Leather & Z~ENTITY.
Drag Hosted event.
Photography works by:
Disenchanted Photography
Proudly sponsored by: VnV Boutique, DisEnchanted Photography, Bottoms Up Burlesque.